You can use this free IP widget script to show the visitor's IP information on your site or blog. Here is a live demo on our blog.
You can set the appearance of the IP widget and preview it here.
Your Information
Your IP: 18.206.48.243
Country:
United States

Region: Virginia
City: Ashburn
Language: en-US
Browser: unknown
System: unknown
Get Code
Paid Version
If you want to remove the Powered by Find-IP.net attribution and the links to find-ip.net, please buy the paid version. Its pricing is $4.98/month or $59.98/year for one domain.
* We accept paypal, credit/debit cards, bitcoin, usdt, and many other payment methods.


After payment, you can use the paid feature in the Javascript ↑ version as well as the WordPress version.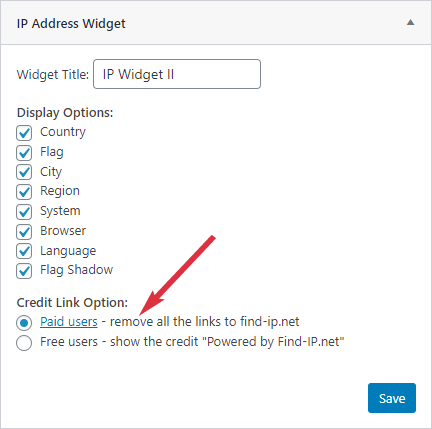 (WordPress IP Widget Options)
Get Code
Copy and paste this code into your page. The IP widget will appear where you place the code.
Note: Please don't change the code in the "Powered by" block. Otherwise, it may not work.